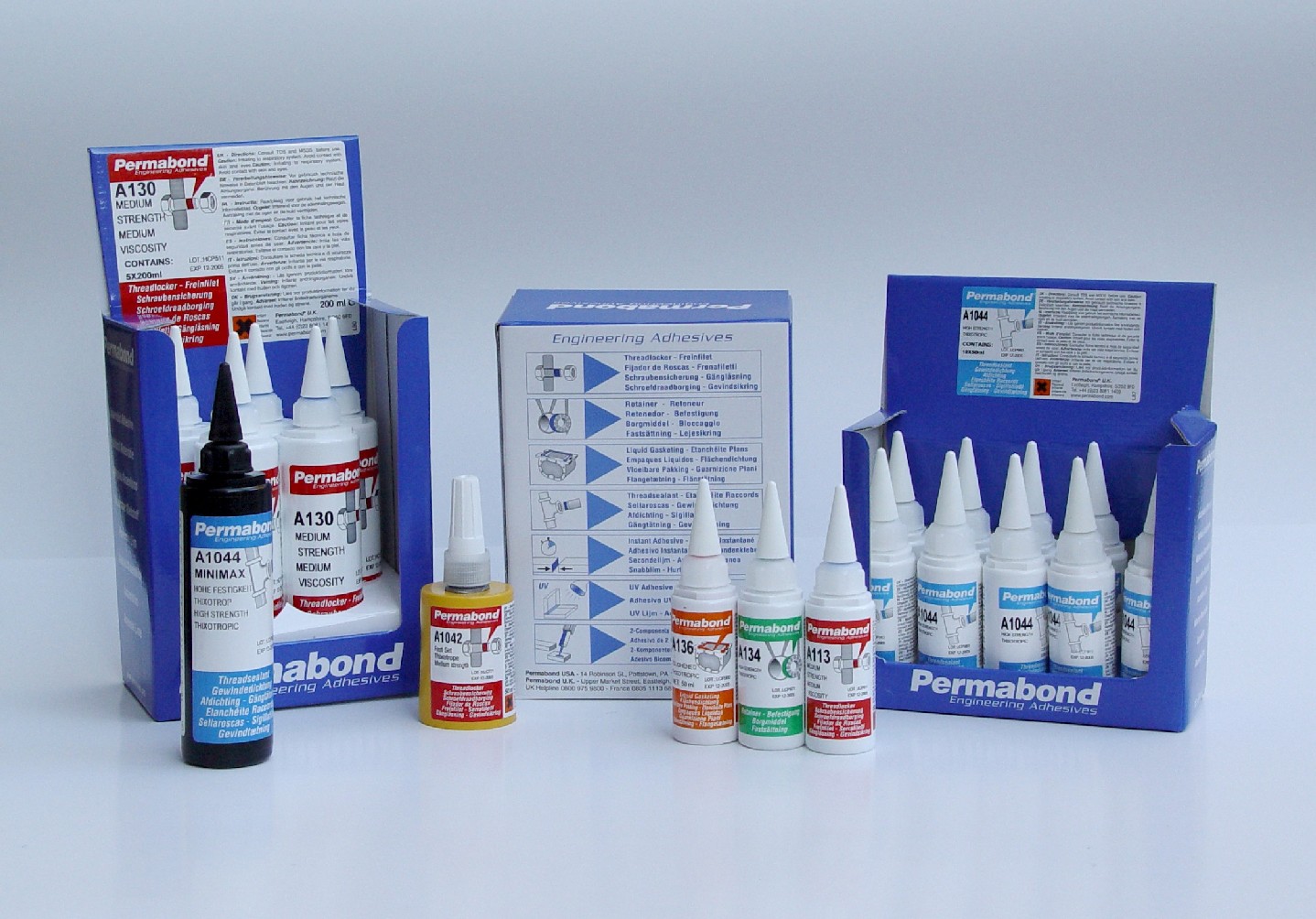 In 1960s there were no other choice for manufactures but to use ordinary bolt and nuts as the only fasteners. The threaded connections needed more reliable means of locking fasteners since too high rate of accidents and failures stopped the enterprises from normal function and development. Then the technical specialists at Вorden Chemicals designed a special formula adhesive that cured to a rigid plastic when pressed between two metal substrates in the absence of oxygen. Their product met the main requirements and found a wide application in the manufacturing sector. Avdel Ltd noticed a high demand for Borden Chemicals's goods and purchased this company. Avdel invested high dollars into the new industrial adhesives research and development. As a result they created several anaerobic products including form-in-place gaskets, seals for threaded connection seals and a number of retainers.
Meanwhile, in Florida, USA, three jewelry businessmen had developed cyanoacrylate adhesive technology of their own which they initially used to bond pearls into their jewelry items. Their formula was widely adopted in different industries and was in great demand. As a result Pearl Chemical company was installed to produce and sell cyanoacrylate adhesives.
There was a National Starch Chemical manufacturing enterprise in 1960s which produced a range of bonding products. That company was very popular in America and had been looking for a chance to enter the world industrial adhesives market. National Starch Chemical purchased the Pearl Chemical and Avdel Ltd's adhesive businesses when as soon as they saw their promising perspectives for further growth.
Permabond trade name revealed for the first time в 1978 and was registered as the National Starch Chemical united company's trade mark. The Permabond 737, the first toughened cyanoacrylate, creation became a significant landmark in the brand development. This product gained enormous popularity and found its wide application at various enterprises, and as a result, the company reached the global level sales.
Permabond keeps growing in an active way and developing new innovative formulas. For the while from 1979 to 1994 a great deal of various epoxies, structural acrylic adhesives, UV-light curables, etc. were designed and developed.
The Grossi family purchased the Permabond business in 2003. The new leaders team made fresh investments into the business what enabled to design new products and to develop the production facilities.
The advanced technologies involved into Permabond adhesives production allow to enlarge the product line regularly. Today this company produces the following items:
Anaerobic adhesives and sealants

Cyanoacrylate adhesives

Epoxies

UV light adhesives

Structural acrylics

Cleaners

Activators

Equipment and devices for adhesives dispensing and applying
Permabond bonding technologies are successfully used at the numerous enterprises in Russia. The company's products are recommended for use in oil-and-gas, machinery building, electrical and electronics, military-industrial economy sectors as well as at the building constructions, water pipelines maintenance and in many other production areas.