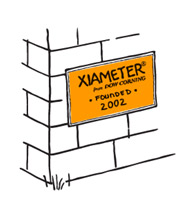 In 2002, Dow Corning Corporation announced the creation of its new division and its corresponding Xiameter brand.
Xiameter is a business model of Dow Corning Corporation creating effective technologies for providing customers with a wide range of silicon-based products.
Xiameter offers proven quality and safety which are peculiar to all products of the company Dow Corning.
To this brand belong those products of different brands product which do not need promotion or advertisement and became standard for millions of customers around the world.
Today a product mix of Xiameter is presented a wide range of materials based on silicones and it contains more than 2100 items: rubber, emulsions, antifoams, sealants, fluids, modifiers, silanes and other materials of different brands manufactured by Dow Corning.
A lot of Xiameter materials accompanied by the documents about the chemical equivalence to products of the brand Dow Corning. Some materials have food tolerance, allowing their usage in food production.
An important feature of Xiameter product is a high quality and ability to solve many of the operational and technological problems of equipment and products manufacturing enterprises.
Terms of delivery and products of Xiameter differ significantly from the products and services supplied under the brand Dow Corning. Orders placing of deliveries is carried out through a special web platform, and product prices are depen on volume. As a rule, the samples of the products are not provided to the customer. Such business model is designed for large customers who know their needs (brand, properties and characteristics of products) and do not need additional services or support.
After joining in 2012, DGE (Distributors Group Europe) ATF had the opportunity to deliver to the Russian market Xiameter products at attractive prices. To minimize the problems, we continue to work with popular products released under the new brand.
Working with them, the ATF relies on the experience of foreign colleagues, and transfers its experience to the Russian market. It allows you to provide quality technical support and accurate selection of the required product.
The high status of the Plenipotentiary of the Group DGE in Russia, has brought ATF - company to a totally new level of European scale and has expanded the opportunities for growth and business development of Xiameter materials in the Russian Federation.