About ATF Company /
Press Centre
/
Specific Lubricating Materials from Dow Corning. Solutions for Vacuum Pumps booklet issue
Specific Lubricating Materials from Dow Corning. Solutions for Vacuum Pumps booklet issue
February 12-th, 2013. A brief guidebook on Dow Corning brand lubricating materials application for vacuum pumps units has been published in the Technical Library Lubricants and Sealants Application in Equipment section.

Вакуумные насосы являются одним из самых распространенных и востребованных видов оборудования и применяются практически в любой отрасли промышленности, в сфере коммунального хозяйства, охраны окружающей среды, на транспорте и т.д. Применение специальных технологичных смазочных материалов для их ремонта и обслуживания определяет не только надежную работу техники, но и является залогом высокого качества изделий, выпускаемых с применением такого оборудования.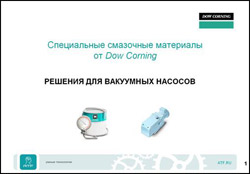 Технические эксперты ATF, обобщив многолетний опыт, разработали комплексное решение по устранению и предотвращению типичных проблем эксплуатации и обслуживания пластинчатых, плунжерных жидкостно-кольцевых, диффузионных паромасляных вакуумных насосов с помощью высокотехнологичных смазочных материалов Molykote и Dow Corning.




Краткое изложение проекта в максимально информативном виде приведено в брошюре «Специальные смазочные материалы от Dow Corning. Решения для вакуумных насосов».


Cкачать брошюру (0,6 mb)